Our vision was to create a spa-sized facility to capture your dreams of a lifestyle to fit both your individual and family needs. Our mission is to create a community atmosphere that fosters lifelong friendships! Nature Pointe, a community with amenities typically reserved for a resort vacation destination. We invite you to explore our list of amenities. Celebrate life at Nature Pointe!
Clubhouse Amenities:
Great Room
Wellness Center
Anasazi Hall
Indoor Pool
Steam Room & Sauna
Massage Room
Game Room
Racquetball Court
Caterer's Kitchen Lunch Snack Room
Great Room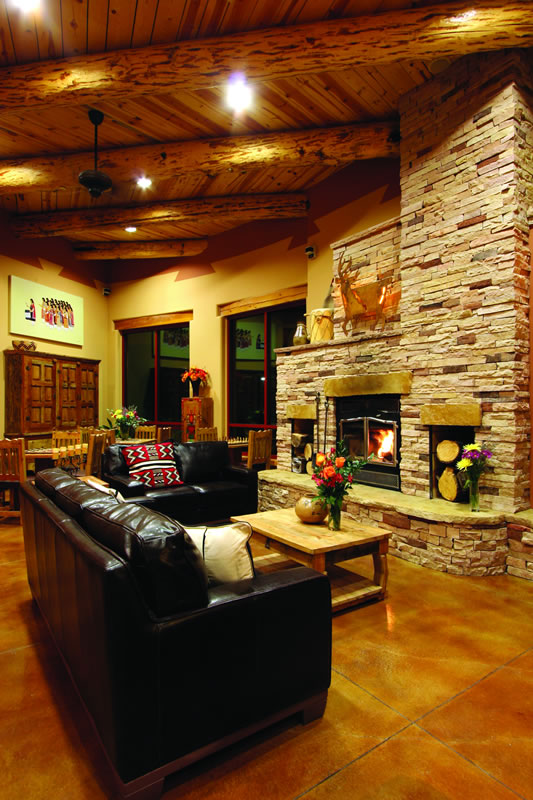 As the main entry room, the great room is an example of traditional southwest design and architecture. Featuring over-sized, hand-peeled vigas and massive rough-sawn beams from the nearby Jemez Mountains, you will be awestruck by the beauty of such massive timbers. Authentic latillas and corbels will also complement the southwest imagery. Soaring 18-foot ceilings and clerestory windows create a room grand enough for a formal wedding reception, yet warm and inviting for some hot tea with a friend over a table game. Richly colored acid stained concrete in earth tone colors will further create an elegant setting for a host of occasions. Rock accents adorn walls for that rustic charm to make you feel right a home. Custom-made copper sconces complement the southwestern clubhouse theme. Radiant floor heating provides a comfortable setting for your days in the clubhouse.
A 24″ tall rock fireplace will be a focal point of the great room for relaxing around the fire and inviting quiet conversation. Show your friends the collection of colorful antique Navajo blankets, and other southwestern artisanship throughout the great room.
Table games of chess, checkers, backgammon, cards, etc. will be provided for anyone wishing to slowly wind down the evening – or grab a book from the library! Over-sized windows provide magnificent views of lightning storms hitting the Sangre de Cristo Mountains!  Enjoy music and sing along around our beautiful 9-foot concert piano. If your gathering is in the Anasazi Hall and the ambiance of the piano is needed, just roll it in and bring the sound of music to your event!
An immense and beautiful antique billiards pool table is located on the south side of the great room for a casual game while waiting for your guests to arrive. While billiards is generally not considered an aerobic sport, at an overall table length of over ten feet, you will get some exercise in if you "run-the-table" like a pro. And, at 2500 pounds, that "accidental" nudge to ease the ball into the pocket will have no effect, in case you decide to try it.
The great room is inspired to make a lasting impression for those visiting the clubhouse for the first time, while feeling right at home for a reunion of old friends. So, you won't mind waiting for your spouse's massage to finish, as you sit around the fire on a winter's evening.
Wellness Center
Anasazi Hall
Indoor Pool
Steam Room & Sauna
Massage Room
Game Room
Racquetball Court
Caterer's Kitchen Lunch Snack Room