Our vision was to create a spa-sized facility to capture your dreams of a lifestyle to fit both your individual and family needs. Our mission is to create a community atmosphere that fosters lifelong friendships! Nature Pointe, a community with amenities typically reserved for a resort vacation destination. We invite you to explore our list of amenities. Celebrate life at Nature Pointe!
Clubhouse Amenities:
Great Room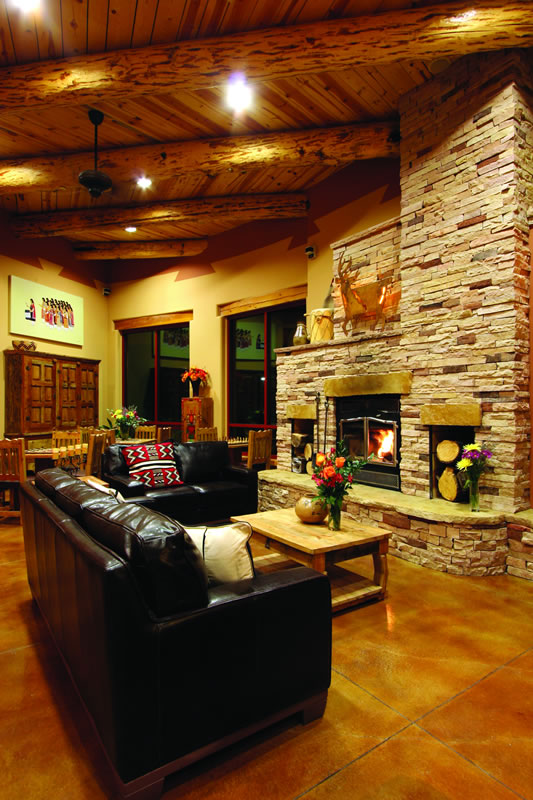 As the main entry room, the great room is an example of traditional southwest design and architecture. Featuring over-sized, hand-peeled vigas and massive rough-sawn beams from the nearby Jemez Mountains, you will be awestruck by the beauty of such massive timbers. Authentic latillas and corbels will also complement the southwest imagery. Soaring 18-foot ceilings and clerestory windows create a room grand enough for a formal wedding reception, yet warm and inviting for some hot tea with a friend over a table game. Richly colored acid stained concrete in earth tone colors will further create an elegant setting for a host of occasions. Rock accents adorn walls for that rustic charm to make you feel right a home. Custom-made copper sconces complement the southwestern clubhouse theme. Radiant floor heating provides a comfortable setting for your days in the clubhouse.
A 24″ tall rock fireplace will be a focal point of the great room for relaxing around the fire and inviting quiet conversation. Show your friends the collection of colorful antique Navajo blankets, and other southwestern artisanship throughout the great room.
Table games of chess, checkers, backgammon, cards, etc. will be provided for anyone wishing to slowly wind down the evening – or grab a book from the library! Over-sized windows provide magnificent views of lightning storms hitting the Sangre de Cristo Mountains!  Enjoy music and sing along around our beautiful 9-foot concert piano. If your gathering is in the Anasazi Hall and the ambiance of the piano is needed, just roll it in and bring the sound of music to your event!
An immense and beautiful antique billiards pool table is located on the south side of the great room for a casual game while waiting for your guests to arrive. While billiards is generally not considered an aerobic sport, at an overall table length of over ten feet, you will get some exercise in if you "run-the-table" like a pro. And, at 2500 pounds, that "accidental" nudge to ease the ball into the pocket will have no effect, in case you decide to try it.
The great room is inspired to make a lasting impression for those visiting the clubhouse for the first time, while feeling right at home for a reunion of old friends. So, you won't mind waiting for your spouse's massage to finish, as you sit around the fire on a winter's evening.
Wellness Center
You may never need an excuse to skip a workout again! Through a dozen 8 foot tall windows that capture awe-inspiring views of the eastern slopes of the Sandias, we strove to create a wellness center with no equal. Our goal is to create a space where everyone feels comfortable, no matter what experience or fitness level. Aspire for better health and well-being!
The oversized wellness center is outfitted with 28 commercial quality machines. The advantage of 28 machines with a specific muscle function is to allow ease of use and a more efficient workout. Cardiovascular treadmills, stair steppers, elliptical and recumbent machines are available to keep your heart at peak conditioning. The wellness center offers free weights, kettle bells, and stretch mats to complement your body conditioning efforts.
Unlike fitness centers with thousands of members, your wellness center is designed for the Nature Pointe Community, so take your time and enjoy your workout while taking satisfaction in creating a healthier you at your clubhouse designed just for you!
Anasazi Hall
With unlimited possibilities, evocative memories will be made in the 2900 square foot multipurpose room. The Anasazi Hall's large open floor plan offers a superb setting for that anniversary dance you have been planning. The beautiful 5/8″ solid hardwood floor is suspended, cushioned with energy absorbing pads, in case you have a ballroom or other dance in mind. So invite your friends and neighbors over to celebrate that special day for your loved one.
The Anasazi Hall's large airtight stone fireplace is just one element to create warmth and ambiance for many special occasions. Imagine your daughter or niece's wedding on the green-belt lawn, with dancing and reception to follow on the hardwood dance floor. Twenty-foot tall ceilings create that spacious setting. Don't forget to mark the dates on your calendar for the annual July 4th barbecue, Christmas Party or the Valentine's Day Dance. Dancing will invigorate you and your partner, no matter who stepped on each other's toes. Reservations for your own special events can be scheduled with the clubhouse manager.
Whether you dance or enjoy other aerobic workout sessions, you will certainly appreciate the cushioned floor. Did we mention having an indoor basketball game by activating the telescoping basketball goal? The durable hardwood cushioned floor will cushion all of your dance or basketball moves! The hall adjoins the patio, fountain and pond so your guests can explore the surroundings you have chosen to call home. With its exacting design and attention to both formal and casual functions, the Anasazi Hall is your perfect venue for almost any entertaining opportunity.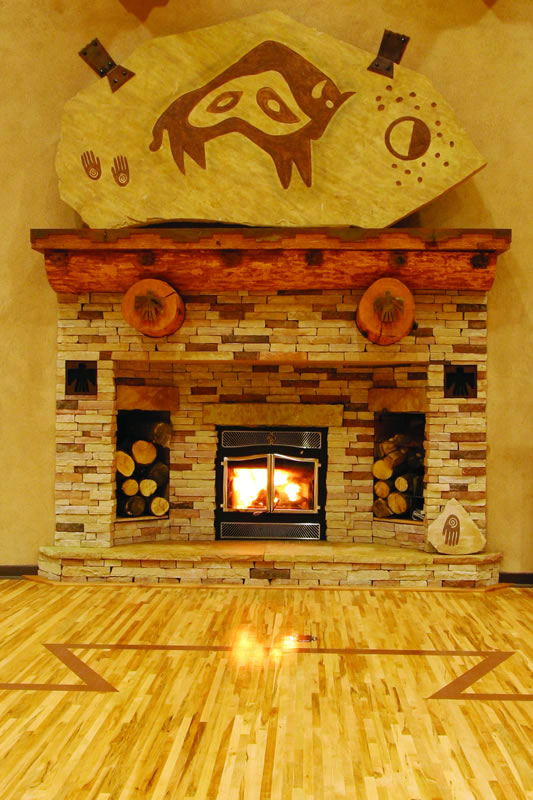 Indoor Pool
Does the irresistible call of water beckon you? The natatorium is 44′ by 80′ with 22′ by 60′ lap lanes. Nature Pointe wanted something different from the common, small outdoor pool. After extensive research, we concluded that the maximum enjoyment and health benefits would be achieved by custom designing a year-round heated indoor pool. The response to our survey-questionnaire showed such community excitement for an indoor pool, that we spared no expense or design limitation on its beautiful outcome.After consulting with a variety of experts and swimmers, we found that the 60′ lanes would empower a workout to condition a serious swimmer's heart. The pool also provides for all other recreational swimming needs that the community may desire. So, if it is your child's or grandchild's birthday swim party you wish to plan, you have found your destination. Unlike most indoor pools, we have provided very ample deck area around the pool for safety, lounging, or reading a book in the natatorium after you swim. High reaching 16-foot ceilings were designed to create an open, spacious feeling, also accommodating water volleyball games.
The indoor pool is equipped with state of the art underwater color-changing LED lighting. Additional refinements to the pool package include a pool cover for heat conservation and safety. An automatic pool cleaning system is in place to reduce maintenance costs. A handicapped lift is available for use, as needed. The disinfection system is the latest generation AquaPure system salt generator, both sanitizing the water and softening the water for your skin. AquaPure creates a most enjoyable pool experience, as strong chlorine smells are now a thing of the past. A humidistat ventilates the pool to further increase comfort in the natatorium. The deck is heated with radiant heat.
Four pairs of 8′ by 8′ over-sized French doors provide plenty of access to the generously sized sun deck during New Mexico's many sunny days. The large patio sun deck offers a place to dry out after getting wet, soak in some sun, read a book, or even take a nap if you like. Don't forget the smaller west patio giving you a quiet deck for a lazy and relaxing day at the pool.
Whether you are lap swimming, water walking or doing water aerobics, swimming has long been proven to be the healthiest low impact exercise available. Nature Pointe makes it available year-round! Invite some friends over, take delight in the pool even more than your own, since you will not have to worry about any maintenance issues. Reward your family and guests with endless, healthy fun-filled days swimming to your heart's content. Enjoy the indoor pool as much as we have enjoyed designing it!
Steam Room & Sauna
Steamroom
Relax, Refresh, and Rejuvenate in the Steam Room. The soothing warmth of aromatherapy with essential oils combine to envelop your senses and restore your well-being. The continuous, warm gentle heat removes toxins from the skin's pores.  If you seek to reduce stress, improve complexion, ease muscle tension or deeply cleanse your skin, the Steam Room will be a daily routine for you.
The Steam Room may end up being your favorite stop between swimming, soaking in the spa, or after finishing your conditioning circuit workout. It is adjacent to the dry sauna for those who like to alternate between wet and dry heat.
Dry Sauna
The Sauna is a part of many peoples' health regime. Heat penetrates deeply into joints, muscles and tissues increasing metabolism and oxygen flow. Additionally, the heat pumps up blood circulation near the skin to stimulate perspiration, ridding the body of toxins and improving general circulation.
Many people find taking a cooling plunge in the pool an incredibly refreshing and enjoyable experience after taking a trip to the Sauna.
Massage Room
Ahhh! A massage. What could be more relaxing and stress relieving than a massage? Massage therapy is not just a luxury anymore, but the ultimate completion of mental and physical rejuvenation. The health effects are becoming more thoroughly understood with a host of ailment relief. Just think of Nature Pointe as your spa oasis at home.
Our Migun automatic massage bed gives the option of a 15 or 35 minute, heated massage at your convenience.  Be sure to give yourself this periodic treat.  Before your massage, don't forget to loosen up in the 
steam room/sauna 
just steps away from the massage room
to get the maximum benefit of a your body massage.
Close your eyes, relax and luxuriate, enjoy a well-deserved visit at the massage room. There is nothing like it!
Game Room
The game room was designed for all ages and interests. Pool table, air hockey, Wii, and more are provided for ample recreation for children or for the older "kid" in you. If you need some quiet time, you now know where to send them and rest assured that they are with their friends and neighbors in your community. In addition, three more competition grade table tennis tables are available to roll out in the patio or Anasazi Hall for the Nature Pointe World Championship Tourney.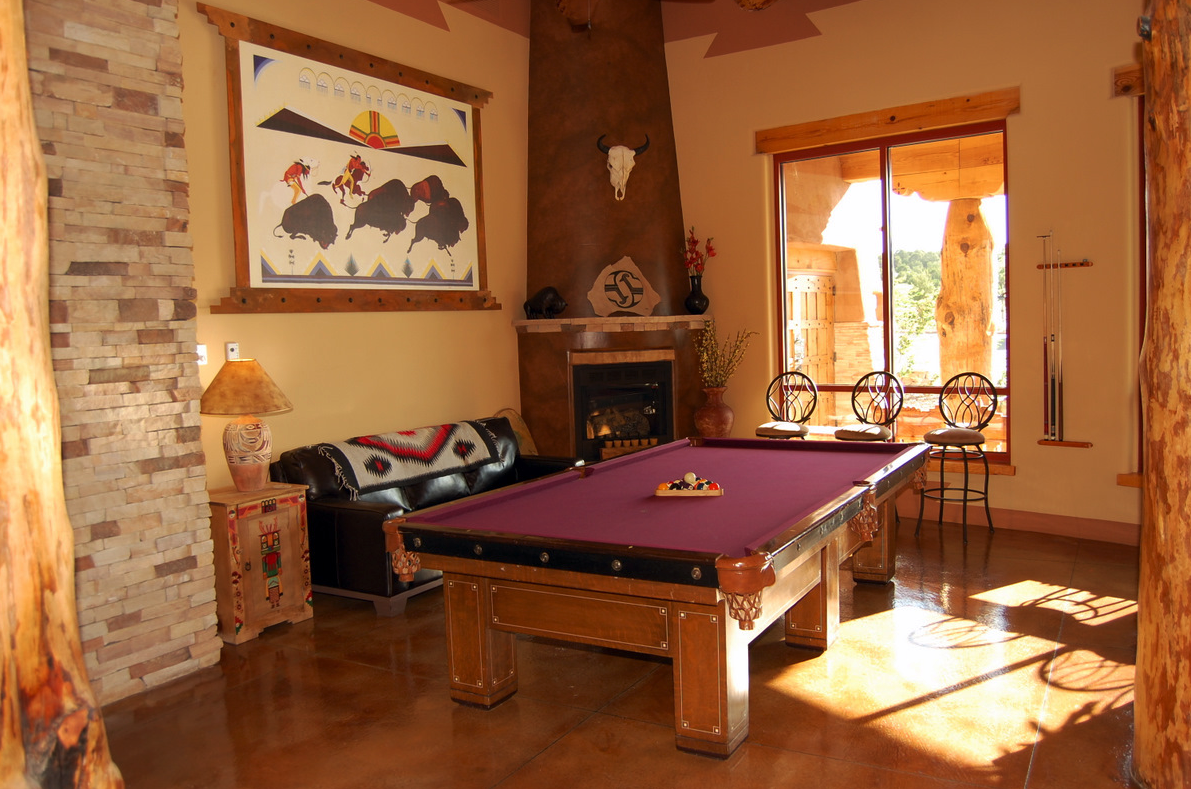 Racquetball Court
An official-sized racquetball court tests your competitive spirit while providing the ultimate aerobic workout. The sprung hardwood floor will help to keep your legs from turning to rubber, but your opponent may wear you down anyway!
Wally-ball games are available for an energetic, faster paced volleyball game using the walls as sidewalls. Post a listing on the community bulletin board requesting a singles or doubles player in a game where it is OK to slam a friendly ball at your neighbor!
What an excellent enjoyable part of your physical fitness regimen!
Caterer's Kitchen Lunch Snack Room
The Caterer's Kitchen is everything your caterer could ask for. We consulted with a professional just to make sure "all the dishes were covered". The kitchen is located centrally, near the Great Room, Anasazi Hall, and close to the rear Patio to help make sure your entertainment needs proceed without a hitch.
Lunch/Snack Room
A pleasant place to have lunch or snacks with family, located just south of the Caterer's Kitchen.